Teeth Whitening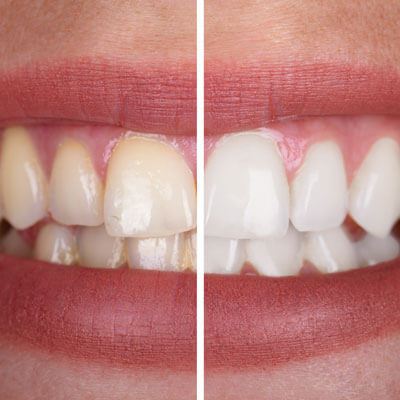 Would you like to rejuvenate your smile and step out with confidence? You can turn your discoloured teeth into a set of pearly whites with professional teeth whitening at Happy Smile Dental! Lightening the colour of your teeth is an excellent way to help your smile look fresher, brighter and boost your appearance.
Teeth whitening is a fantastic choice for gifting yourself with a straightforward and affordable smile makeover. If you would like to enhance your smile further you may wish to consider other types of cosmetic dentistry services, too, which we can discuss at your appointment.
When you choose to have your teeth whitened professionally at Happy Smile Dental (compared to using an over-the-counter product) you may see faster, better results.
Why Whiten Your Teeth Professionally?
While it may be tempting to whiten your teeth with kits found at the chemist, you will not achieve the same level of results that you would with professional teeth whitening. Our whitening solutions can
Remove deep-set stains that have accumulated over time from coffee, tea, etc.
Safely lighten the natural colour of your teeth
Yield better results than using store-bought kits
Give you a brighter smile that new cosmetic restorations are matched against
If you have a special event coming up, like a wedding or graduation, and you want to make sure your smile is at its best, you may wish to book an appointment for our in-office teeth whitening treatment because it is fast and effective. The treatment can achieve significantly brighter teeth in just one appointment.
During the treatment, a professional strength gel that oxidises stain particles is used. In addition, we use special light technology to accelerate the process. You will see several shades of improvement at the end of your in-chair procedure.
Plus, we can fit you with a take-home kit to help you maintain your results throughout the years to come!
If you prefer to whiten your teeth on your own time, then a take-home professional kit is the perfect choice. To prepare your kit, we will take impressions of your teeth to fit a moulded tray that holds the whitening gel in just the right places. You will need to wear your trays for about an hour a day for 10-14 days. While results are noticeable after a few days, you will see the best outcome if you stick with it for the recommended time frame.
These treatments allow you to touch up your smile whenever you need to. For a smile that is always at its brightest we recommend re-bleaching for a few days after each scale and clean. However, if you tend to get stains easily then you may want to whiten as frequently as every 3-4 months to keep your teeth bright.
Is teeth whitening right for me?
The only sure way to determine if you are a good candidate for teeth whitening is to come in for a consultation. It is important to be aware that there is a risk of serious damage and even teeth loss if a whitening treatment is not done properly. That is why we never recommend off-the-shelf whitening products.
It is always best to have your teeth whitened by a professional. By having a consultation at our practice before embarking on teeth whitening, you are protecting your future oral health and ensuring there are no risks to you.

Who is a good candidate for teeth whitening?
There are certain people who may not be able to have their teeth whitened for various reasons. Patients who have had the enamel of their teeth worn off are not candidates for teeth whitening because without the protective enamel the sensitive areas of the teeth are exposed.
If a patient has any tooth decay or leaking fillings we recommend that those issues be taken care of before embarking on the whitening treatment. The initial teeth whitening consultation allows our team to ensure that you are a good candidate for whitening before you get started.

Should I do in-chair or at-home whitening?

Each person may prefer a different form of teeth whitening depending on their goals, schedule and budget. If you do not mind it taking a little longer, or find it difficult to come in for an appointment, you may prefer at-home whitening.
Home kits are not suitable for everyone though. If you have sensitive teeth, having your professional whitening completed in practice is your best bet as our team will be there to manage the entire process. If you want to get immediate results without having to repeat your whitening process each day, you will want to choose the in-clinic option, too.

What can I do to make sure my whitening lasts?

After your whitening procedure, you will receive a full set of instructions about how to properly care for your teeth. This document includes tips to minimise sensitivity, a list of foods and drinks to avoid, and comprehensive oral hygiene instructions, to make sure you have long-lasting results.

Teeth Whitening Scoresby, Knoxfield, Wantirna South VIC | (03) 9759 9066