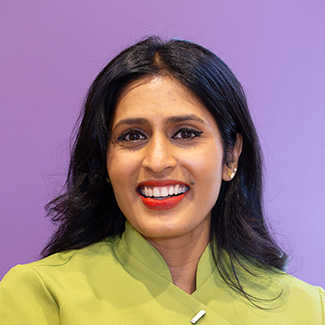 Dr Krishanti Mahadevan (Dentist)
Combining Interests to Become a Dentist
While growing up, Dr Krishanti was fascinated by science and the human body. She even read through encyclopaedias to learn about how and why things work. With a love of math, science and creativity, she knew she wanted to enter the medical field.
Though she considered becoming a medical doctor, a friend who was studying dentistry told her she might want to think about being a dentist. It was a perfect fit and allowed Dr Krishanti to be around people and help them. She wanted to inspire confidence in her patients and know that she would make their dental care as painless as possible.
A Well-Rounded Education
Dr Krishanti graduated from the University of Melbourne. To continue learning, she completed a programme with the Royal Australasian College of Dental Surgeons. There, she honed her theoretical knowledge and juggled being a mum at the same time.
A smile is happiness you'll find right under your nose."

Tom Wilson
All ages are welcome to see Dr Krishanti at Happy Smile Dental. She provides judgment-free dental care to the best of her ability. To indulge her love of learning, she continues to take regular educational courses. She has her patients' welfare in mind at all time. When you see her, you'll be fully educated on the techniques and procedures we recommend to you complete with models, surgeries and understandable explanations.
EXPLORE OUR SERVICES »
Outside of Dentistry
In her spare time, Dr Krishanti enjoys spending time with her family, including her daughter. She likes to read, learn and be creative. Her passions are animals, nature and children. Once a year, she enjoys visiting India to practice yoga and meditation, to get away from it all and mentally recharge.
Book Your Visit Today
If you'd like to improve your oral health or achieve a gorgeous smile, we can help you! Contact Happy Smile Dental today to schedule your first appointment with us. We're open late and offer 24-hour emergency care.


Dr Krishanti Mahadevan | (03) 9759 9066