Dental Implants
Do you have missing teeth? Are you considering a bridge or partial but prefer something more long-term? Open spaces in your bite can lead to everything from aesthetic concerns and diet restrictions to speech issues and poor denture fit. Fortunately, dental implants offer a viable alternative. We use high quality, world renowned Straumann implants to achieve the best results for our patients.
What Are Dental Implants?
Implants are biocompatible, titanium "roots" that are set into your jaw in the location of your missing tooth. When they've integrated with the bone around them, a restoration such as a crown, bridge or denture is affixed on top. Because of their strength, implants can be used in pairs to replace multiple teeth at one time.
The high success rate and integrity of implants make them one of the best and longest- lasting options for replacing missing teeth. In most cases, with good oral hygiene and regular maintenance visits you can expect them to last for life.
Implant Restoration Options
Because dental implants only mimic the root portions of teeth, it is still important to have a permanent restoration made to affix on top of them. Dental implants mimic the root portions of the teeth. A crown will be fitted over the implant once it has integrated with the bone a few months following your surgery. The crown can be either cemented or screwed into the implant. After your implant has integrated with your body a few months following your surgery, a small abutment is attached to the top, which extends above the gums. From there, we cement a traditional crown or bridge in place. Need to replace all of your teeth at once? As few as 2-4 implants can be used to anchor a denture.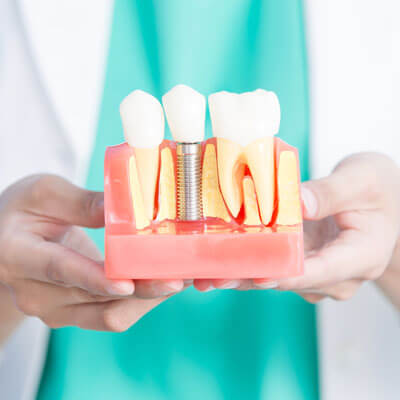 We use high quality world renowned Straumann implants. These modern dental implants are a straightforward and comfortable procedure to have completed. Most people compare it to having a tooth pulled, only more comfortable. You may need to take some pain relief medications for 1-2 days post surgery and depending on your individual circumstances you can be back to work within a few days.
We will use local anaesthesia to numb the area that your implant is being installed(placed) but sedation dentistry is also available upon request!
Will you have to cut the teeth that neighbour the gap?

No! one of the greatest advantages of dental implants is that we do not need to cut into the teeth on either side of the space where a tooth is missing. Only the missing tooth is addressed in dental implant treatment.
How do I care for a dental implant?

People love that their dental implant can be treated just like a natural tooth. You would brush the tooth and floss around it as you would for any other tooth. No special care is required for your implant.
Which brand of dental implants do you use?

We work with Straumann, which is a well-known name within dental implants. It's one of the most long-standing companies with a reputation for excellent quality.
How long does the process of getting implants take?

All in all, your treatment will be completed in a little as three months, with a maximum of six months.
What makes Straumann implants special?

Straumann implants are made from the high end materials. The system uses the latest in dental implant technology to produce the best results. Straumann offer increased comfort and premium aesthetics.
Will I need to replace my dental implant after a time?

Not necessarily. If you look after your dental implant, it can last a lifetime! Be sure to brush, floss and attend your regular dental checkups for the best results.
What if I don't have much bone material left in my jaw?

Over time, you can lose bone material in your jaw. If that is the case with you, rest assured that it doesn't mean you can't get a dental implant. Instead, we may need to perform a bone graft first, which will add material to the area. Then, your jaw will be able to hold the implant.
Are there certain people who should not get dental implants?

Yes. If you have poor oral hygiene or are a smoker, we do not recommend implants, because of a higher risk of infection in these cases. If you are unsure as to whether you are a candidate, please get in touch with us.
FIND OUT IF YOU QUALIFY FOR IMPLANTS
Wondering if you're a candidate for implants? Get a free 30-minute consultation with us. Find out if it's right for you, what costs are involved and what treatment will mean. The first consultation will be to assess if you are a suitable candidate for implants after a comprehensive medical and dental history check, a thorough clinical examination and some x-rays.

Dental Implants Scoresby, Knoxfield, Wantirna South VIC | (03) 9759 9066