Dental Crowns and Bridges
Scoresby Tooth Repair and Replacement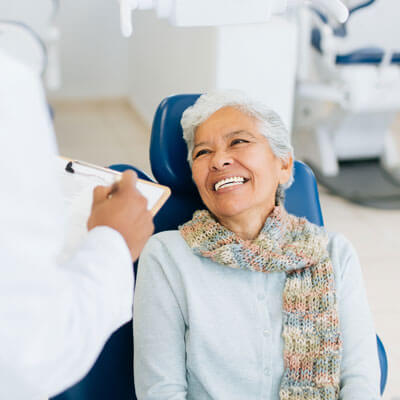 When your tooth is broken, missing or planned to be extracted, we offer long-term solutions to help your smile look and function its best. With custom crowns and bridges, we are able to restore your bite and enhance the appearance of your  smile.
Do I Need a Crown?
Crowns (sometimes called "caps") are full coverage protective restorations that cover compromised teeth. They are used when a filling is inadequate due to large structural damage. The crown protects the remaining tooth structure, allowing it to withstand everyday use. We also place crowns over teeth that have been treated with root canals, to avoid chipping or wear to the non-vital tooth.
Bridges Fill in the Gap
After a tooth is removed or is already missing, a bridge fills in the open space and prevents adjacent teeth from shifting out of alignment. Bridges are functional restorations, allowing you to bite and chew as you did before the tooth was extracted.
Bridges look like 3-4 crowns that are bonded together. Both ends are bonded on top of healthy support teeth, suspending the replacement crowns between them. If you have multiple missing teeth, bridges can also be placed on top of dental implants in lieu of wearing a removable partial denture.
Planning for Treatment
Getting a crown or bridge requires a two-visit process to complete. During your initial visit, we will numb the area of the supporting teeth and then slightly adjust them so that a crown can slip over them without feeling bulky. Next, a digital scan or an impression is taken and a temporary crown is placed over the prepped teeth. About two weeks later, your permanent bridge or crown will be ready to bond in place.
Depending on which teeth are being treated, we offer a variety of different materials to choose from, including porcelain and gold.
* Any surgical or invasive procedure carries risks. Before proceeding, you should seek a second opinion from an appropriately qualified health practitioner.

Dental Crowns and Bridges Scoresby, Knoxfield, Wantirna South VIC | (03) 9759 9066