Technology We Use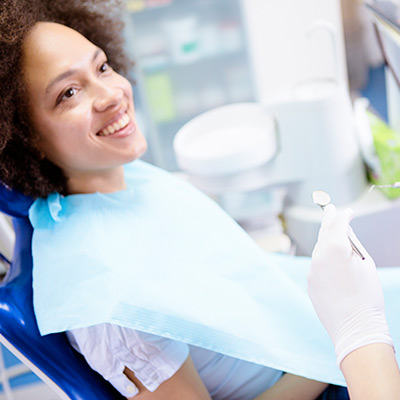 Here at Happy Smile Dental, we love improving our services to our patients and hence research the best products and equipment to assist in our comprehensive approach to your dental treatment. Some of the modern equipment that we have incorporated into our practice to keeps us at the forefront of technology include:
Digital X-rays
In the world of exposure to increased radiation today, we strive to minimize radiation to our patients. Digital x-rays not only significantly minimizes radiation but provides better resolution and magnified view of your teeth so we can diagnose more accurately.
Sirona OPG (full mouth) Digital X-ray Machine
We have immediate access to take a full mouth digital x-ray if needed. This means that there is no delay in treatment should you need it at the same appointment.
SoproLife Intra-oral Camera
Ever wondered what your tooth likes? Intraoral cameras will show you a live view or highlight photos of your teeth in general or with dental concerns. This camera also aids in detection of dental decay and facilitates an understanding of the dental diseases happening in your mouth. In some cases, photos of soft tissue abnormalities can be taken and aid in communication with the appropriate dental specialist.
Digital Extra-oral Camera
Extra-oral photos help us gather information that is critical to create an aesthetically pleasing smile. With extra-oral photos, we can treatment plan a smile that suits you!
Kavo Prophyflex
Do you suffer from stains? Prophyflex is an air polishing instrument that is highly effective in removing stains from smoking, beverages like coffee, tea and wine as well as food stains.
Zoom In-chair Teeth Whitening
If time is an issue, perhaps consider our in-chair teeth whitening service. This procedure utilizes a light and can be completed in one sitting. Please book in for a check-up to ascertain if you are the right candidate for this procedure.
High-end Sterilizers
Highly stringent infection control measures are important to us. We value our patients' safety and follow measures to implement this with our high-end sterilizers.
Televisions and Music
Ceiling mounted televisions can keep you distracted and maybe allow you to catch up on a favorite movie or TV program while you are getting your teeth fixed. This serves as a great entertainment for kids too. You can also listen to soothing music or relaxing videos while you have your dental treatment.
Digital scanner (Trios 3Shape scanner)
Nothing is than messier or uncomfortable than impression material that sticks, takes a long time to set or sometimes cause a gag reflex. With digital intra-oral scanners, we scan your teeth in order to fabricate the required prostheses. This process is quicker and creates no mess.
Electrosurgery (Perfect TCS)
In certain dental situations, the gum needs to be recontoured to gain access to the hidden tooth structure or remove a flap of tissue that may be causing infection. Electrosurgery performs this with ease and virtually no discomfort.
Dental Implants (Kavo and Straumann)
Missing gaps in your dentition can now be restored with implants. We utilize high quality German equipment and renowned Straumann implants to replace your missing tooth/teeth.
Rotary Endo System ( X-Smart Plus and Protaper Next) and Endovac
We invest in reputable root canal preparation systems to obtain the best possible treatment outcome. Specialized irrigation system are utilized to ensure that your root canals are thoroughly disinfected to achieve the best outcome for your tooth.
Contact Us Today
Get started today! We accept health funds and the Child Dental Benefits Schedule.
CONTACT US

Technology We Use | (03) 9759 9066