Dentures
Your Scoresby Tooth Replacement Team
If you have missing teeth or are planning to replace the ones scheduled for an extraction, dentures are a cost-effective option to restore your smile in a timely manner.
Types of Dentures Available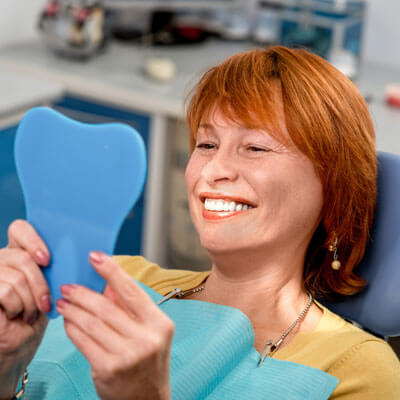 Did you know that there's more than one type of denture to choose from? At Happy Smile Dental, we offer three different designs to meet the oral health and lifestyle needs of our patients.
Full Dentures – A removable appliance that rests directly on top of your gums and covers the entire arch, replacing all of your (upper or lower) teeth at one time. Dentures not only restore missing teeth, they also support your facial structures for a fuller and healthier appearance on the outside.
Partial Dentures – If you still have natural teeth that can be preserved, we'll recommend a partial denture. These dentures use clasps that snap around your existing teeth and only replace the ones that are missing. Partial dentures can be made of a chrome or plastic or nylon base.
Implant Retained Dentures – Dental implants are so durable that we can use them in sets to replace a full arch of teeth at one time.
With an implant denture, we will take an X-ray to evaluate the best location for and number of implants you need. Then, we'll schedule your implant surgery. After you've fully healed and the implants have integrated with your bone, we'll attach the denture on top of them.
Which Option is Right for You?
Most of our patients qualify for more than one treatment, especially when it comes to dentures or dental implants. We invite you to schedule an exam to discuss your needs, concerns and end goals. We will present you with the options and information that you need to make an informed choice for your future smile.
Request Your Visit Today
Contact us now to schedule your denture or implant retained prosthesis evaluation.
CONTACT US
* Any surgical or invasive procedure carries risks. Before proceeding, you should seek a second opinion from an appropriately qualified health practitioner.

Dentures Scoresby, Knoxfield, Wantirna South VIC | (03) 9759 9066