Porcelain Veneers
Cosmetic Options for Scoresby
Porcelain veneers are a popular cosmetic solution for our patients looking to achieve a dramatic smile makeover. Each custom-fitted veneer is crafted from a thin shell of porcelain that's designed to fit alongside of the others for a straighter, whiter, even looking smile.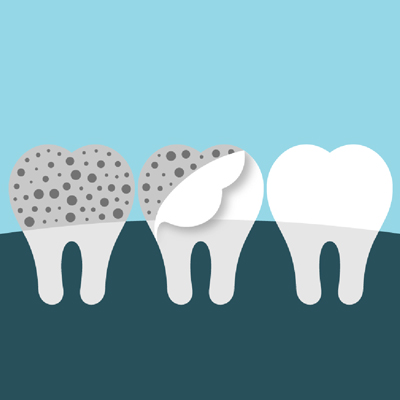 The number of dental veneers that you need will depend on which teeth are a concern and how wide your smile is. Some people do well with as few as six across their top front teeth, while others need to go back even further or treat the lower teeth as well.
Veneers give you fast results without orthodontic therapy, teeth whitening or bonding!
Ideal Candidates for Porcelain Veneers
Before starting any type of cosmetic dentistry treatment, it's important to make sure that your teeth and gums are healthy. If you have any active cavities or periodontal disease, this will need to be addressed first. Veneers are best for treating problems such as:
Crooked or gapped teeth
Misshaped teeth
Stained or irregular tooth enamel
Uneven smiles
The Treatment Experience
Getting porcelain veneers is usually a two-appointment process after your initial consultation. When we have decided the shape, size and colour of your future smile, we'll have you in for a "prep" visit. Your teeth will be gently reshaped and an impression taken. In some cases, we'll fit you with temporary veneers to wear while the lab is making your porcelain ones. About two weeks later, the final porcelain designs are ready to try on and bond permanently onto your teeth.
Before starting treatment, you'll be directly involved in selecting the design of your new smile. Every person is unique, so we want to provide a customised experience that best accentuates your lifestyle and appearance.
Schedule Your Consultation Today
Find out if porcelain veneers are right for you. Contact Happy Smile Dental now to schedule an appointment.
CONTACT US
* Any surgical or invasive procedure carries risks. Before proceeding, you should seek a second opinion from an appropriately qualified health practitioner.

Porcelain Veneers Scoresby, Knoxfield, Wantirna South VIC | (03) 9759 9066