Cosmetic Dentistry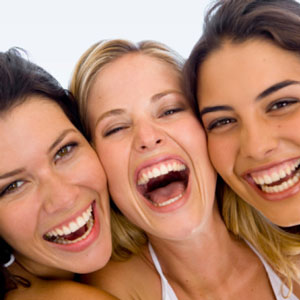 Do you wish that you could alter the way your smile looks? At Happy Smile Dental, we believe in providing comfortable, minimally invasive dentistry that reaches your smile goals. With the latest equipment and technology, our caring team will simplify your procedure. You can improve your oral health while enhancing the way your teeth look.
Nothing makes an incredible first impression like a dazzling smile. You'll also find that it gives a tremendous boost to your self-esteem. If you're interested in learning more, read on to discover what we can do for you!
Teeth Whitening
Whitening your teeth is a popular option in cosmetic dentistry used by satisfied patients around the globe. It's a simple way to look more youthful and rejuvenate your smile. If you have an event soon or would like to get immediate results, we recommend that you schedule for our in-chair whitening treatment.
If you're not in a hurry, you might prefer to take a convenient whitening kit home with you. We'll evaluate your teeth and let you know what it will take to reach the level of whitening you'd like to achieve.
Should you choose to have your whitening done at our practice, you'll receive professional-strength whitening gel and be supervised by us the entire time. Our take-home kits can still give sparkling outcomes but may not be as dramatic. It does, however, offer the advantage of letting you do your whitening when it works best for your schedule.
Porcelain Veneers
Imperfections with your teeth can make you feel embarrassed to smile or speak to others. If your teeth are gapped, misshaped, misaligned or chipped, you may want to repair them. Porcelain veneers are a long-lasting solution. They are a thin shell custom-created in our local laboratory that can be applied to the front surface of your teeth. Once you're wearing them, you'll have that gorgeous Hollywood smile.
Composite Veneers
If you would like to experience veneers but are looking for a more cost-effective option than porcelain veneers, composite veneers may be ideal. This procedure is completed in a single appointment with our dentists. The composite material is applied to your teeth layer by layer, then shaped and polished to a luminous finish. You'll leave our clinic with immediate results!
Crowns and Bridges
Damage to your teeth can happen from trauma, accidents or the passage of time that can wear them down. If so, you can restore their health with a dental crown or bridge. A crown looks like a cap that goes over the compromised tooth to give it greater strength. You'll be able to eat what you like and know that your tooth functions as it should.
A dental bridge is for those who are missing one or multiple teeth. It's made up of a row of crowns where the ones in the middle are suspended into the open space. The end crowns are attached to teeth that neighbour the gap. It's a fixed solution, so you won't have to worry about removing it.
Contact Our Friendly Team Today!
Are you ready to get started? Experience exceptional cosmetic dentistry Scoresby. We accept health funds and are providers for Bupa and HCF. Don't have dental cover? We'll be happy to arrange a payment plan for you.
* Any surgical or invasive procedure carries risks. Before proceeding, you should seek a second opinion from an appropriately qualified health practitioner.

Cosmetic Dentist Scoresby, Knoxfield, Wantirna South VIC | (03) 9759 9066